The Solidsport Broadcast-app
The functions in the Solidsport Broadcast-app
Whether you are going to livestream a game or a competition it's important to know how to make the most use out of our app.
The most basic features you need to know about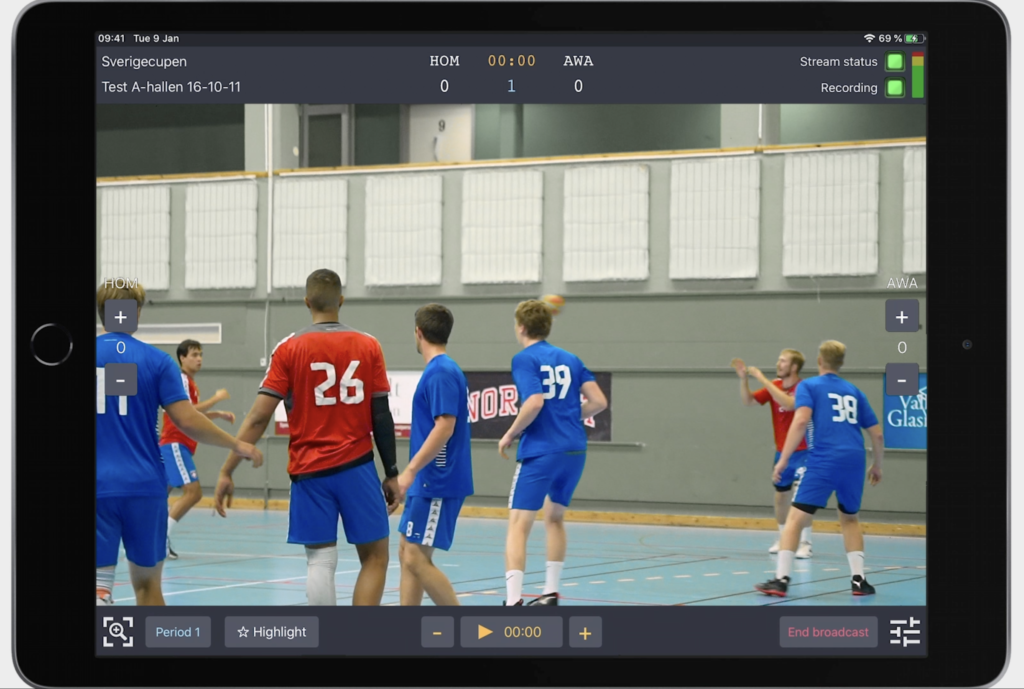 To pause the stream you click on the lower middle button right beside the timer.

To end the stream you click on the button to the right ''End Broadcast''.

To make a highlight you click on the button ''Highlight''. When doing so, the recording will be saved 10 seconds back in time from the moment you click on the button.
Example: A player shoots and makes a nice goal, the moment he or she makes the goal you click on the ''Highlight'' button and this videoclip will be saved in your channel as a Highlight video.
To see in what quality you're live streaming with, click on the white meter button on the right next to ''End broadcast.'' Here you can either lower the quality or make it higher. We recommend you have it on medium and if you have a bad internet connection then you should lower the quality so the stream runs smoother.
Features for a game
Updating the scoreboards is one of the main functions you will use. To the left and right you can see plus and minus buttons on each side. This is where you update the scoreboard when a team makes a goal. 
To update the Period, you click on the button to the left and the period will be updated which you can see at the top middle of the screen.
Features for an event/competition
The quality of the stream is especially important when there is a performance competition that requires high quality. As mentioned in the most basic features of the app, you can find the regulator on the right side of the screen. But to film with high quality you have to have a good and stable internet connection. 
Watch the video
If you're a visual learner then have a look at the video where we explain all the functions in the Solidsport Broadcast app.