Broadcasting is of course more fun to produce and at the same time more nice to watch if its made with good quality.
In this part of the Streaming School you will get our top tips for making a good live broadcast. These are small things, but which will be of great pleasure to everyone watching the broadcast.
Good preparation – the key to a good sports broadcast
Before you're going to live stream a game or sporting event, there are a few things that are extra important to consider. Firstly, make sure you have the Solidsport Broadcast app downloaded to the device you're going to broadcast with. Also, be sure to be logged in to the Broadcast app. It's also a good idea to check that the game you plan to broadcast is available in the app.
Ensure a good internet connection
For the broadcast to be good, you need to have a good connection. Outdoors, a mobile 4G connection usually works well, but indoors it can sometimes be more unsafe. We recommend a stable connection of at least 5 mbit to live stream, but also 2-3 mbit can work if the connection is stable. Feel free to test your connection using Speedtest.net or similar services.
Prepare the device you're going broadcast with
Your smartphone, tablet or whatever device you choose to live stream with also needs to be prepared. Therefore, be sure to check:
That the battery is fully charged and you have enough browsing data left (when broadcasting with 4G). A live stream that is one hour will consume about 1GB of data, if you live stream in medium quality. If you stream in high quality, you will need almost twice as much data.
Make sure the locked rotation mode on your device is turned off. If this is enabled, the image will be locked in portrait mode even though you are broadcasting in horizontal mode.
If you're broadcasting with a smartphone, make sure that "Do Not Disturb" mode is turned on. Otherwise, the record risks being broken if someone calls during the broadcast.
Use tripods for a more stable and better live broadcast
To get a good filming and live broadcast, it is recommended that you have a tripod with a holder for mobile or tablet, depending on the device you are broadcasting with. It can work without too, but with the help of a tripod it will be much easier to broadcast for the person filming while giving viewers a much better experience.
Choose a good place to film
The place you choose to stand when you broadcast sports is very important. A good benchmark is to try to stand at the height of the middle line on the pitch when you broadcast. Also, make sure you're in a sealed-off place where any audience isn't at risk of ending up in front of the camera.
It's also an advantage to get up a bit from the pitch as it gives a better overview of the game. If there's a grandstand, it might be a good position to stand on. Standing on a stool or table are also creative ways to get up a bit from ground level. Below you will see an example of such a solution.

Photo: Stuvsta IF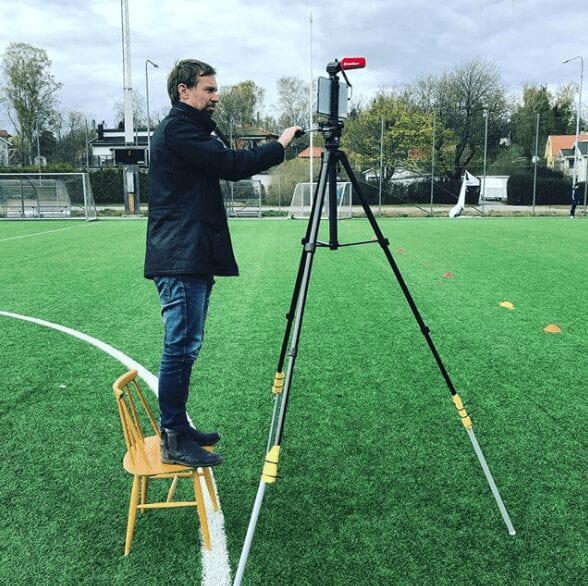 Use zoom but not too much
If you are broadcasting sports with a great distance to the pitch or if you are filming a very large field, you should use the zoom slider in the Broadcast app. You can find it under the square at the bottom left of the app. If you want to use it, it's recommended that you set the zoom before the game begins.
To set the zoom, position yourself in the middle of the pitch. Then turn the camera towards one target and zoom in so much that you get close enough to the target. Try not to change the zoom settings during the broadcast, adjusting only if you feel you're too close or far away for longer game sequences. Too much zooming will result in a bad experience for the viewers.
Make advanced graphics with Solidsport Report
With the help of our Solidsport Report app, you can create advanced graphics. Among other things, you can show which player has scored directly in the broadcast.
Download the app to your mobile phone or tablet for free on the AppStore or Google Play
Keep in mind that viewers hear everything you say
It is important to think twice before talking close to the broadcasting device. Everything you or anyone else says nearby is well heard by viewers. You are welcome to comment the game or event but avoid talking about things that don't add anything to the broadcast.
Short summary
Before we finish this part of the Streaming School, we recommend that you take part in this video. It summarizes and shows everything we described above.
Before you start, we also want to give you the most important tip to get a good broadcast; always keep in mind to follow the game from the screen on the device you use when filming. This ensures that viewers see the same thing you see while filming. If you follow the game without looking at the screen, there is a high risk that it will be a bad experience for viewers.


Prepare in good time
Now you have all the information you need to make a good broadcast. However, this is not a guarantee that problems will not arise. To give you some time to adjust or fix any issues, it is recommended that you start testing well in advance before the streams goes live to the viewers.
To see if a broadcast looks good before the countdown in the player has counted down, you can log in to Admin on the channel, select the menu item "Live" and then the correct broadcast.
If you don't have admin access to the channel, you can always ask someone else with admin rights on your channel to do this.

Good luck!
Now you've got a quick rundown of how to make a good but easy sports broadcast with a smartphone or tablet. If you have any questions, please contact us from the help form and we will get back to you as soon as we can.
In the last part of the Streaming School, we'll walk you through how to inform about and share your streaming channel and broadcasts in the easiest way. Something that will be key if you want make money for the team or the club. Click on the link below and you will get to the last part of the Streaming School.
Create a channel
To get the most out of Streaming School, we recommend that you first start a streaming channel on Solidsport.
Read more
Want to know more about Solidsport before you start a channel?
Solidsport was founded with the vision of enabling all sports at all levels. That by creating a free and easy streaming platform that enables everyone to broadcast their sport live.
With the help of the live sport broadcasts, Solidsport want to convey excitement and joy, create new revenue possibilities for all sport clubs, teams and federations, develop players and coaches, inspire more people to sport and contribute to a better society where more people are healthy.
Hammarbybacken 27
Stockholm, Sweden
+46(0)8 462 62 10
info@solidsport.com
© Copyright 2021 - Solidsport | Photo credit - Bildbyrån